EDUCATION FOUNDATION GRANT ELIGIBILITY​ AND APPLICATION​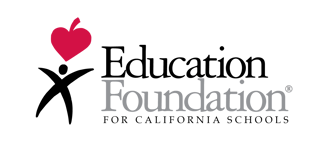 The Education Foundation for California Schools awards grants to California public and private school teachers for the creation of an innovative program that aims to inspire students to excel in core subjects. Applications are chosen based on various criteria outlined below. Eligibility restrictions apply.
Who May Apply
This program is open to all teachers in California public and private schools, kindergarten through community college. Grant applications may be submitted by individual teachers, or by school teams of up to three teachers.
There is a maximum of two applications per teacher, either as an individual or on a school team. Each application must target a different core subject category and you must list all California content standards your project supports. For example, you may submit two individual applications for different categories, or you may submit one individual application and one group application for different categories.
Core Subject Categories
Language Arts (Reading/Writing/Phonics).
Science/Mathematics.
Foreign Language.
Social Studies (Geography/History/Economics).
Visual arts, performing arts, and sports programs are not eligible for the Education Foundation Grant at this time.
Grant Criteria
The Education Foundation's Grant Committee evaluates and scores each application without knowledge of the applicant or school. Decisions are based on the following criteria:
Original, non-duplicated content in each application.1
Well-defined, realistic, measurable objectives.
Clearly stated implementation plan.
Instruction methods that are both essential and innovative.
Expanded and/or interdisciplinary experiences in any subject area.
Number of students who will be impacted.
Long-term applicability of program/project.
Ability of program/project to be repeated in subsequent years.
Clearly stated evaluation plan that is directly related to objectives, and that visibly measures improved student performance.
Complete, detailed, and correctly totaled budgetary items.
Adherence to all grant application requirements.
Grant funds must be used for materials or equipment that are directly related and essential to the project. Technology, such as computers, digital cameras, or software programs may be purchased with grant funds as long as this technology is vital to and is used in the project.2 Grants for technology that will be used to simply supplement other classroom equipment are not eligible.3
Receiving a Grant
The Education Foundation offers two funding levels:
$1,000 — One teacher per application; no school teams.
$5,000 — One teacher or school team (maximum of three teachers) per application.
Funds are distributed to the primary applicant through a check made payable to the district, specifying the teacher to whom the funds are to be distributed. All grants are presented tax-free and are paid in full, regardless of the amount (not to exceed $5,000).4
Grant funds must be used for the purpose stated in the grant application and implemented during the school year. For example, if you receive your grant in December 2022, the program or project must be implemented during the 2022-2023 school year. Grant recipients are not required to submit purchase receipts.
Materials and equipment for both individual and team grants will remain with the specific program/project for which the grant application was submitted. If a teacher receives a grant for a specific program and leaves the school, the grant for the program remains at the school. If a teacher receives a grant for a specific program for a specific grade and the teacher transfers to a different grade, the grant for the program stays with the grade.
Before You Apply
Be sure your principal or site administrator and district superintendent are aware of your Education Foundation Grant application prior to applying. They must approve your program before an application is submitted.​
How to Apply
Applications for the 2022-2023 school year are now closed. We will begin accepting applications for the 2023-2024 school year on October 1, 2023.
Disclosures
If duplicate applications are found, all will be disqualified.
All technology equipment will be used as designated in the application and at the end of the life cycle, the Education Foundation leaves it up to the district administration as to what will happen with the technology.
Grant funds may not be used for substitute pay, stipends, teacher salaries, field trips, after school programs or professional development courses. However, expenses associated with training courses to learn how to implement a program or use a piece of equipment may be eligible. Before a grant is awarded for technology, the teacher must ensure it is compatible with the district network.
Consult a tax advisor for additional information.