EDUCATION FOUNDATION SPONSORS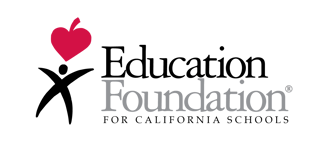 Thank you to the corporations and individuals who generously supported the Education Foundation for California Schools in 2022. Their donations allowed the Foundation to award grants supporting innovative programs designed by educators to help students learn and excel in core curriculum, and in Science, Technology, Engineering, Arts and Mathematics (STEAM) education. These programs inspire our next-generation leaders in ways that would not otherwise be possible.
We thank the following donors, who are helping educators change lives, one student at a time.
AHEAD
American Fidelity
Arch | MI
Assurant
Atkinson, Andelson, Loya, Ruud & Romo
Autoland, LLC
Consolidated Analytics
Co-op Solutions
Creative Maintenance Systems, Inc.
CSU Foundation
CSU Fullerton, College of Education
CSU Fullerton, University Advancement
CU Direct
The CUFS Group @ JP Morgan
CUNA Mutual Group
C.W. Driver
Diebold Nixdorf, Inc.
Enterprise Car Sales
EOS — Electronic Output Solutions
Equifax
EVOTEK
Fiserv
Fullerton College
Gallup
The Hartline Family
HomeSmart Evergreen Realty
ICE Mortgage Technology
Joseph & Cohen
The Lepore Kostecki Group at Morgan Stanley
Mastercard
Mercer
Moss Adams
Nationwide Financial
NIC Partners
Pacific Harbor Line
Penn Corporate Relocation Services
PeopleSpace
RG Appraisal Management Services, LLC
Santa Ana College Foundation
SaavyMoney
SchoolsFirst Federal Credit Union
Sectran Security, Inc.
ServiceNow
Turner, Warren, Hwang & Conrad AC
United Paving Co.
Vericast
Xpress Data, Inc.